As a young girl in the early 80's, I dreamed of having big hair. Not the puffy, lacquered, helmet-like hairdos of New York City socialites like Ivana Trump, but a glorious made-in-Hollywood mane of bouncy, feathered waves à la Farrah Fawcett. Alas, my small town hairdressers in New Jersey never quite succeeded at turning me into an Angel or a bombshell.
My mother, on the other hand, had loads of glossy brunette hair, and every night would set her entire head with variously-sized rollers while my father and I watched TV.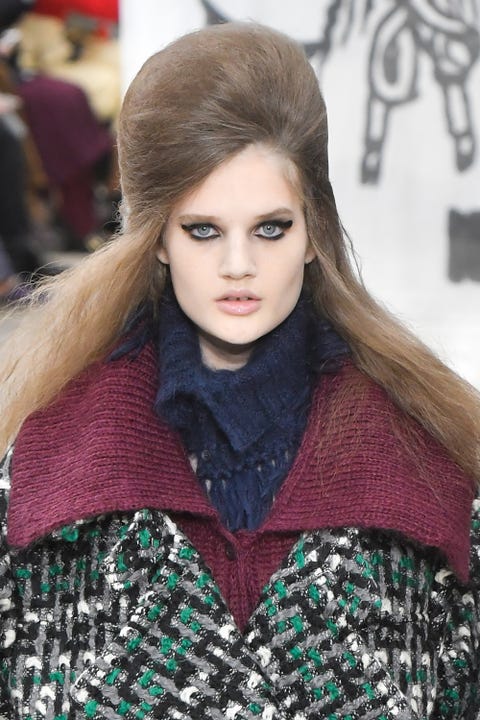 So, naturally, I was tickled to see the fall 2018 runways filled with more padded shoulders, power suiting, stirrup pants, and statement leather than the Palladium club on a Saturday night in 1988. Because when the 80's return, epic hair must follow. Sure enough, at Miu Miu, Guido Palau whipped up voluminous and vertiginous beehive shapes, locked into place with buckets of Redken Forceful 23 Hairspray. Jeremy Scott's Moschino show featured models like Kaia Gerber with flippy, structured bouffants. And the hair at Anna Sui was super-plumped and swept dramatically to one side.
Jimmy Paul, a New York-based stylist known for his prowess with massive manes, learned the importance of volume at a tender age from his hairstylist mother, Mary Pat. "She taught me how to tease, an important element of most of my big-hair styles," said Paul. But his aha moment came while watching The Mike Douglas Show, a daytime talk show, as a kid.
When Paul arrived in New York City at the tail end of the 80's, he frequented downtown clubs like The World, Pyramid Club, Danceteria, and Boy Bar. "I take a lot of inspiration from my club days," he said. "Lady Bunny's take on big hair and the whole Dusty in Memphis 60's blond thing was a revelation. Big hair, I think, says that the culture is open to freedom of personal expression."
Like Paul, McKnight keeps his big coiffures au courant with lighter texture, adding movement to allow hair to breathe. "Or I go for something perfectly exaggerated and just plain weird," he said, like the wigs for Kendall and Bella. In either case, he uses a tail comb for backcombing and "Easy-Up Do" from his product line, Hair by Sam McKnight.
So: Will big hair make its big comeback?
"It already has, but in a modern way," McKnight declared. "We have been embracing natural, undone hair for a while now, and that includes curls, waves, and afros. Whereas before we worked to change a model's hair to fit into one aesthetic, now, more often than not, we are emphasizing someone's natural texture. So in essence, we aren't fighting big hair anymore. We're embracing it."
This article was originally posted in W Magazine.
Minor changes have been made by the Quiet Curator editors.